Looking for a trustworthy truck? Scania trucks go the extra mile to get the job done. These reliable trucks assist businesses to deliver products on time. Scania is committed to meeting the transportation needs of their clients. With years of experience in the industry, Scania offers buyers top quality trucks. The wide range of models available makes it easy to find a truck for sale that meets each company's requirements. When it comes to Scania trucks South Africa has a lot to offer.
Scania is well-known for manufacturing tough and reliable trucks. With an affordable price tag and excellent fuel economy, buying one of these trucks is a cost effective option. These trucks are designed to tackle tough conditions and durable construction trucks are suited to more challenging jobs. There are plenty of used Scania trucks available on Truck and Trailer.
A Scania R480 Tipper truck is for sale online. This 2007 model has 6×4 capabilities. It has a new cube bin and hydraulics.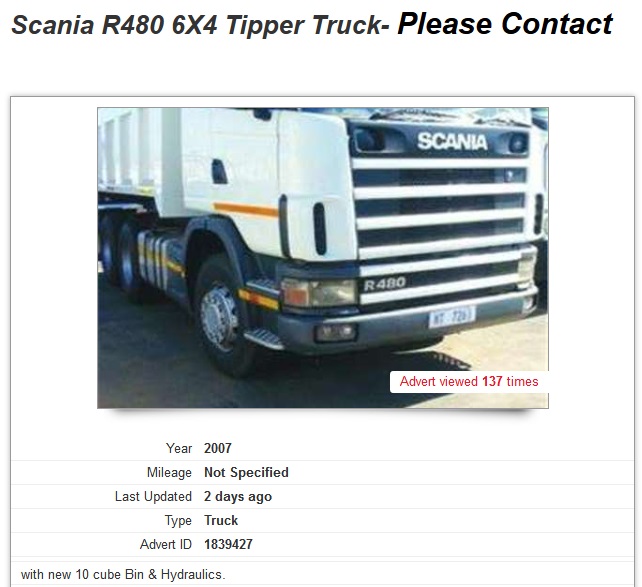 Another option is a R420 HP truck tractor. This 2011 model has 6×4 capabilities. The truck has been well maintained and it is being sold with a comprehensive service history. It has passed a roadworthy test. The truck is from a neat fleet of trucks, which has been kept in excellent condition. This top quality model is a great buy.
A Scania Freight Carrier is up for sale. This 2010 model has 8×4 capabilities. With only 360 000 km's mileage, the freight carrier is in excellent condition. The truck has been well maintained and it comes with a full service history.
Buyers can find two Scania Truck Tractors for sale online. Both trucks have 6×4 capabilities. There is a model with 564 000 kms of mileage and one with 694 000 kms on the clock. Both trucks are in excellent condition and have a comprehensive service history.
Used Scania Trucks are a great asset to businesses nation-wide. With so many second hand trucks to choose from, it is easy to find a model that meets your requirements.
For used Scania trucks at affordable prices, visit www.TruckandTrailer.co.za.
The following two tabs change content below.
Struan Langlands
Digital Marketing Channel Co-ordinator
Digital Marketing Channel Co-ordinator @ Junk Mail Publishing. My family, work and sport are the 3 things that I am most passionate about and motivate me. "The day you think there is no improvements to be made is a sad one for any player." ~Lionel Messi
Latest posts by Struan Langlands (see all)